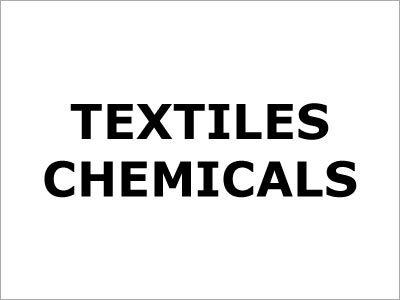 Product Description
Textiles Chemicals are an indispensable part of textile industry. They are used in textiles and are used to color the original raw material and therefore product. Our provided chemicals are mainly used in textile & garment industries for dyeing, fabric pre-treatment, printing & some other purposes. Adhering to the growing requirements of current market requirements, these Textiles Chemicals are widely used for different applications such as fabric softener,dyeing and others. Mainly demanded in the textile industry, our offered Textiles Chemicals are highly demanded in the market.


Seeds

LAMEPOL-TS 30
Blended etherified thickener for the printing of polyester, tri-acetate using disperse dyestuffs. It is suitable for all polyester qualities, also for micro fibers.

LAMEPOL-ST 45
An Ideal printing thickener It is suitable for direct printing on polyester and tri-acetate and also for the discharge/resist LAMEPOL - ST 45 is also very well suited for discharge printing by means of stannous chloride (SnCl 2 ). Before adding the stannous chloride (SnCl 2 ) thickener should be neutralize with Citric Acid / Glycolic Acid. Its used on all printing machines as well as on hand printing tables.

ALCOSEL - HHS 8
Ideal Thickener for Disperse and discharge printing.

ALCOSEL - UV/30
Low viscosity thickener application with almost all dyestuff classes.

LAMEPOL - FA 4
High viscosity thickener for printing on cotton and rayon fabrics.

ALCOSEL - LV/45
An ideal printing thickener for rotary printing with low viscosity.

ALCOSEL - RX
High viscosity thickener for reactive printing.

ALCOSEL - VAT 8
Thickener specially for Vat color printing will give optimum color yield.

ALCOSEL - CT 100
Thickener specially for disperse printing will give high color yield and stable in acid or alkali discharge printing.

ALCOSEL - KVT
Ideal Thickener for Vat color printing.

PRINTOSE - CK
Special Thickener for Disperse printing will give sharp printing on thin cloth .

PRINTOSE - C9
This thickener is for Disperse printing, will give even printing in blotch printing.

ALSOSEL-KUD 5
High Viscosity Ideal Thickener for Disperse and discharge printing.

SODIUM ALGINATE
A versatile Sodium Alginate in all grades. ( LV / MV / HV)
AICO FOODS LTD.
44, Hirabhai Market, Diwan Ballubhai Road, Kankariya, Ahmedabad - 380002, Gujarat, India
Phone :+918045803149
Mr. Amit Chopra (Manging Director)
Mobile :918045803149