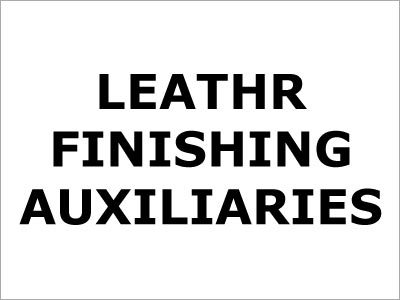 Product Description
Our high performance Leather Finishing Auxiliaries are based on silicone-containing & silicone-free substances & comprises a wide spectrum of emulsifiers to decrease agents for tanning, defoamers to forbid macro- or micro- foam at the time of production and/or application of water borne touch, finishes and handle modifiers to change the plastic feel to an attractive soft leather and dispersing additives for a continuous film and flow and anti-cratering additives to prevent cratering and pigment floating and also to give natural appearance in spray application.

ARASOFT - TXL

Cationic Fatiliquor.

GLYCOLIC - ACID
Leather dye-fixing, fixation of the dye on chrome retanned leather.

REACTO - RL
It is universal scouring agent cum ideal dye booster, sequestering and chelating agent with 100% value of Alkaline pH.

REXOGEN - ANI
Anionic detergent.

REXOGEN - RLI
Nonionic detergent.
AICO FOODS LTD.
44, Hirabhai Market, Diwan Ballubhai Road, Kankariya, Ahmedabad - 380002, Gujarat, India
Phone :+918045803149
Mr. Amit Chopra (Manging Director)
Mobile :918045803149