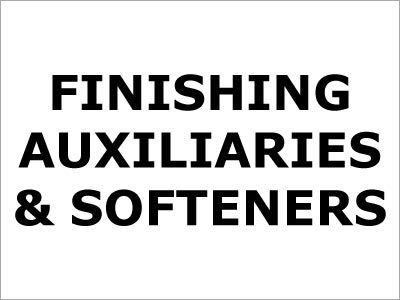 Product Description
Finishing Auxiliaries & Softeners

ACCOSOFT - 18
A special softener for high grade finishing. It is a unique self reactive non-ionic finishing agent with a very high Molecular weight in Micro Emulsion softener imparting soft, silky handle and giving a good aesthetic feeling of touch to natural, synthetic fibers and their blends.

AERONINE - CWP (For Softening all kind of Textiles as well as special for Suiting)
AERONINE - CWP Is applied to all kind of Textile fibers & imparts a soft smooth and full hand as well as softening of Hosiery materials. It is of neutral reaction in sequeous solutions and well stable against the water hardness as well to acids in the common concentration, be co-applied with other non-ionic and cationic products.

RAMTEX - EM 5100/5200/5300 RAMTEX - FB
Polyvinyl acetate emulsion.

AICO - OC 100%
Cationic softener especially developed by our R&D for Hosiery.

INTERASIL - PR (SPL)
Revolutionary water dispensable-Hydrophilic P. U. Finishing Agent with other special additives for batch or Continuous finishing and printing operation.

LAMAESTO - NFL
is reactive silicone emulsion, which provides both a soft hand and elastomeric properties to fabrics and knits.

LAMAOXY - AFL
is a reactive epoxy silicone elastomer offering remarkable bounce ness to all kinds of fabrics and dress materials.

METATEX (SPL)
Amino base softener, which gives soft and silky finish.

METACRYL CONC.
Amino Silicone in Concentrate form.

META MICRO RFW
Micro Amino Silicone for Cellulosics, Viscose, Rayon, Synthetic +Blends.
go to category

MICROSIL
Microsil is a non ionic high molecular weight product. It is specially developed for finishing of woolens fabrics and woolen blend fabrics. Modified, reactive micro silicone emulsion appli- cable by the exhaust method. Especially designed to give very smooth, soft and supple feel on knitted goods and garments.

MICRO SOFT - 720
Is a non-ionic high molecular weight product. It is specially developed for finishing woolen fabrics & woolen blend fabrics to impart draps softness & lusture, Microsoft - 720 produce a permanent finishing effects.

ORCONOL - TX
Multi functional micro emulsion for permanent finishing effects on all type of fibers and fabrics.

SILCOTEX - 720 A silicone emulsion for Textile Industry.

METAPURM-PU/ PU (Conc.)
Highly efficient silicone micro emulsion concentrate for soft & voluminous handle.

ETAPURM - KR
Highly effective non yellowing micro amino silicone concentrate for soft & bulk handle.

AICOFINISH-NFR C. S. 120
Reactive epoxy silicone elastomer for bounce & grease recovery. Concentrated cationic softener, which impart smooth and soft handle to cotton, acrylic and Cotton/Polyester blends. It can be used for the fabric with or without resin finish.
AICO FOODS LTD.
44, Hirabhai Market, Diwan Ballubhai Road, Kankariya, Ahmedabad - 380002, Gujarat, India
Phone :+918045803149
Mr. Amit Chopra (Manging Director)
Mobile :918045803149