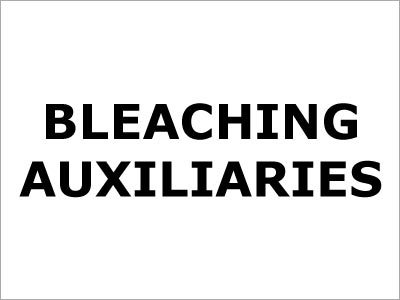 Product Description
Bleaching Auxiliaries are specially developed auxiliaries for pretreatment of textiles. They have highly effective, wetting, decreasing, stain removal & detergent action giving a clean fibre/fabric. It also act as a machine cleaning agent. Excellent lime soap dispersant, these Bleaching Auxiliaries are great washing off agent after dyeings. Available in different specifications, these Bleaching Auxiliaries are offered to our customers at market norms. In addition to this, our customers can easily avail these auxiliaries from us at market leading rates.


AICO - KBI
Anti foaming agent.

AICOGEN - NRI
A leveling agent for disperse dyes on polyester.

AICOGEN - NTRI
100% Non-ionic detergent.

ARCOZOL - HSI
Highly Sulphonated oil and anionic wetting agent.

ALIZEN - DK , ALIZEN - DK 100
A leveling agent for disperse dyes.

AIPROCAT - R
Ready catalyst for reactive + disperse printing on T/C, T/V and T/P (Blended fabrics.)

AICOFIX - A/B/C
Dye fixing agents for Cotton.

BINDER - ALN
Binder for pigment printing.

DE-OLIGOMER - R
Your reliable partner for auxiliaries in dyeing of polyester fiber will not allow any deposition of oligomers at draw frame during spinning process. This will improve the quality as well production without any additional cost.

GLYCOLIC - ACID
For use in disperse dyeing and printing on polyester for smooth printing and brilliancy. This is recommended to be used in place of Citric Acid/Acetic Acid/Formic Acid. The later imparts harshness to the fabrics. Glycolic - Acid is also used for cleaning of Jet Dyeing Machine to avoid subsequent problem and to get more fresh goods.

INTERACARRIER RTR and OPR
Carriers for synthetic fabrics and yarn.

LAMAGEN - SMK (A Special Product for Suiting) Levelling agent for 1:2 Metal Complex & acid dyestuffs.

Dyes, to its substantivity for 1:2 Metal Complex Dyes, enforces slow and even rate of adsorption which results in excellent penetration and leven dyeing. It is applicable in dyeing of Wool, Silk and Polyamide fibres in weakly acid bath (pH 4-5) and also in ammonium sulphate (pH 6-6.5) process.

LANAPOL - TDK
Specially use to get even dyeing due to its property for soluble Acid dyes. Versatile dyeing assistant and leveling agent for dyeing and printing.

LYCOPRINT - KT
is a all-in-one Printing Agent for disperse dyes on polyester and blends. It's working as a Leveling/Penetrating/Antifoaming Agent cum Accelerator for Loop Ager and Acid Donner in printing with disperse dyes on Polyester and it's blends.

AARPAAR - PT
It is an emulsifiable liquid, which has antifoaming, wetting and penetrating action on printing pastes.

POLYFIX - HDN & RRI
Ideal accelerators for fixation of disperse dyes. They also help to get more color value in Loop Ager.

RAXILAN - RR
Antifoaming and penetrating cum leveling agent for disperse printing.

R. C. AGENT - S
Reduction Clearing Agent for printed & dyed fabrics as well as dyed yarns. It replaces Hydro Sulphite of Soda (Hydros).

REDUCTION - HF
Reduction Clearing Agent in powder form for printed and dyed fabrics as well as dyed yarns in powder form. It replaces Hydro Sulphite of Soda (Hydros)

RESIST - SALT
A 94% product for procaine printing.

REACTO - RL
It is universal scouring agent cum ideal dye booster, sequestering and chelating agent with 100% value of alkaline pH.

RENON-2070
100% non-ionic detergent.

REXOGEN - RLI
Non-ionic detergent.

REXOMINE - RI and REXOMINE - RI 100%
A versatile, dispersing, scouring and emulsifying agent.

RETEX - CP
Anti tinting and washing agent as well as Anti Migrating agent for printed and dyed goods. Specially developed to help you in removing tint of Khadi also.

RETEVAT - OR
Leveling, dispersing and retarding agent.
go to category

SOLVENT - RRG
Solvent for printing with acid and metal complex dyestuffs.

SANTOGEN - R & PRINTOFIX - RP (SPL)
Used in discharge printing on polyester. They enhance the brightness and clarity of the prints and improve print paste stability.

TEXOBURN - RR BRASSO ENZYME
A versatile ready product for BRASSO prints. Special product for Brasso.

UNITOP A1D (All-in-one product for Dyeing.)
This is an excellent all in one product for Dyeing of polyester, Acrylic, Nylon, Wool, Silk, Rayon, Acetate, Jute, Cotton and Blend of these fibre, fabric and yarns.

UROSOL - KTR
A new approach to wool dyeing called Urosol process, in this method the cell membrane complex of wool modified before dyeing by treatment under mildly alkaline conditions with a special auxiliary UROSOL - KTR , it's increases the rate of dye bath exhaustion and dye penetration early in the dyeing cycle.

RENON @ EKF 30 The new EKO FRIENDLY product in the range of Reduction Clearing Agent

An ecologically advanced reductive after treatment for use on PES fibres. Not only does it come in easy to handle liquid form, it also lowers your process costs because it work in Acidic pH no changes needed anywhere in the process. Assuring you of faster colors in significantly faster times. Another excellent solution from AICO

TERATOP - UV A
Celerator cum penetrating, leveling, brightening agent for Loop steamer.
AICO FOODS LTD.
44, Hirabhai Market, Diwan Ballubhai Road, Kankariya, Ahmedabad - 380002, Gujarat, India
Phone :+918045803149
Mr. Amit Chopra (Manging Director)
Mobile :918045803149